Whirlygig beetles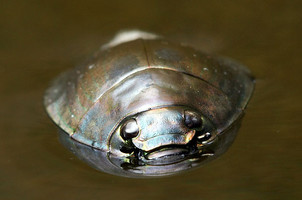 A Dineutes whirlygig beetle from Arizona, © Alex Wild
Whirlygigs beetles (family Gyrinidae) are very interesting animals, that spend much of the time as adults swimming around at the surface of the water. They have four eyes: two on the bottom that watch what's going on in the water, and two on top that look into the air. They also have very odd legs shaped like little paddles so they can scoot around on the surface.
More about whirlygig beetles:
Exploding beetles
Many groups of beetles can release nasty chemicals at things that try to eat them. But two groups of ground beetles (bombardier beetles related to the genus Brachinus, as well as those related to Metrius and Paussus) are especially good at this. They have two little chambers in their abdomens that they mix chemicals in that react so violent that they explode out of the end of the beetles. These chemicals come out very hot - as hot as boiling water - and are poisonous - they have quinones in them. The animals have special structures that allow them to direct where the explosion goes - so that they can shoot it at whatever is bothering them. When you pick one of these beetles up, you can here a pop!, and see a little puff of steam. If they shoot you, it hurts a little, and usually will stain your finger.

Click on an image to view larger version & data in a new window
Left: a Brachinus bombardier beetle © 1995 David R. Maddison. Right: a Metrius bombadier beetle, © Alex Wild
More about bombardier beetles:
Wrinkled-bark beetles: Beetles that walk into wood
Click on an image to view larger version & data in a new window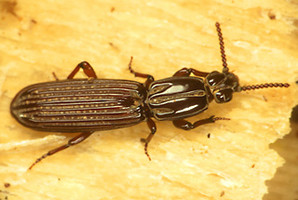 Clinidium wrinkled bark beetle, © 1997 David R. Maddison
More about wrinkled-bark beetles:
Micromalthus: beetles with no fathers
Click on an image to view larger version & data in a new window
Female Micromalthus beetle, © 2007 David R. Maddison and female Micromalthus larvae, © Alex Wild
More about Micromalthus beetles:
Priacma: beetles that like laundry
Click on an image to view larger version & data in a new window
Priacma serrata. © 1996 David R. Maddison
More about Priacma:
Click beetles
Click on an image to view larger version & data in a new window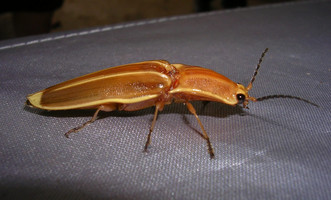 Semiotus click beetle, © 2007 Edwin Bellota
More about click beetles:
Fireflies: Beetles that glow at night
Click on an image to view larger version & data in a new window
Photinus firefly, © 2004 kim fleming
More about fireflies:
Stenus: jet propelled beetles
Click on an image to view larger version & data in a new window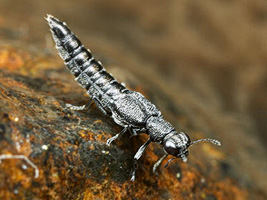 Stenus sp. © 2004 Alex Wild
More about Stenus rove beetles:
Ptiliids: the smallest beetles
Click on an image to view larger version & data in a new window
Acrotrichinae. © 1995 W. Eugene Hall
More about ptiliids:
Ladybird beetles
Click on an image to view larger version & data in a new window
Coccinella septempunctata, © 2005 Russ Ottens
More about ladybird beetles: